Activseal Technology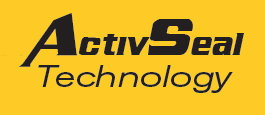 Simoniz Sealtite products are the world's only sealants which incorporate 5 fiber types, including ceramic fibers 2mm to 20mm in length, in their formulations.  Our proprietary blending process causes these fibers, including the very coarse ceramic fibers which have barbs that resemble fish hooks, to float freely and untouched in the sealant solution.

When you begin to drive a vehicle with Simoniz Sealtite sealants installed, the sealant distributes itself and creates a skim coat layer on the inside of the tread area.  When a puncture occurs in the tire's tread, the ActivSeal process begins with the sealant instantly rushing to the breach.  The puncture expands when it is on the road's flattened surface pulling in the fiber-filled sealant. 
The coarse ceramic fibers latch on to the rubber at the puncture site and the four other fiber types cross-hatch with the ceramic, forming a flexible fiber plug.  When the puncture is at the top of the tire rotation, it squeezes tight, forcing the liquid solution out, leaving only a flexible fiber plug behind.  With each rotation of the tire, more and more fiber fills the hole until the puncture is completely and permanently sealed.